Although I've been working on a couple of things, I've not had a lot of time to take pictures of them over the last several weeks. So today I made some time this afternoon to grab some quick shots of the screen printing I've been trying and decals I've been testing.
I've been playing with screen printing off and on over most of the summer. The biggest problem I've had (among all of the big problems I've had
) has been to get an image that will work when it's converted and burned on a screen. I decided I didn't want to add the complexity of buying a screen and putting on the emulsion and then burning an image on it, so I took the short cut and bought screens that were already photo ready. I just had to create a image on film that I could expose and wash out. I got an image from one of my photographs that I thought might work and started exposing. I bought a couple of UV lights and put them in my light box, replacing the florescent tubes in it. After a number of test exposures, I could see I wasn't getting anywhere fast. I was up to 25 minutes exposure and it was still coming out under exposed.
So I decided to do it like so many others have done and use the sun. Luckily, since it was summer, we were having a 4 week sunny spell here in the Northwest, so this worked out pretty well. I found that about 25 seconds was all I needed to give me a proper exposure that washed out correctly. I did find out though that the 3 layers of laser film I used (stacked images) didn't really create a dense enough image, so I lost some of the detail in the image. Next I went to a solid image. I took one of the dog profiles I had cut out of black Bullseye glass by water jet this summer and used it as my positive to create the negative screen image. It worked. I now had a screen to try printing with. I had previously bought some already mixed glass fusing paints and those are what I used for my first several screen printing attempt.
Here is the 3rd attempt I did with the first image I was trying to use after it was fired: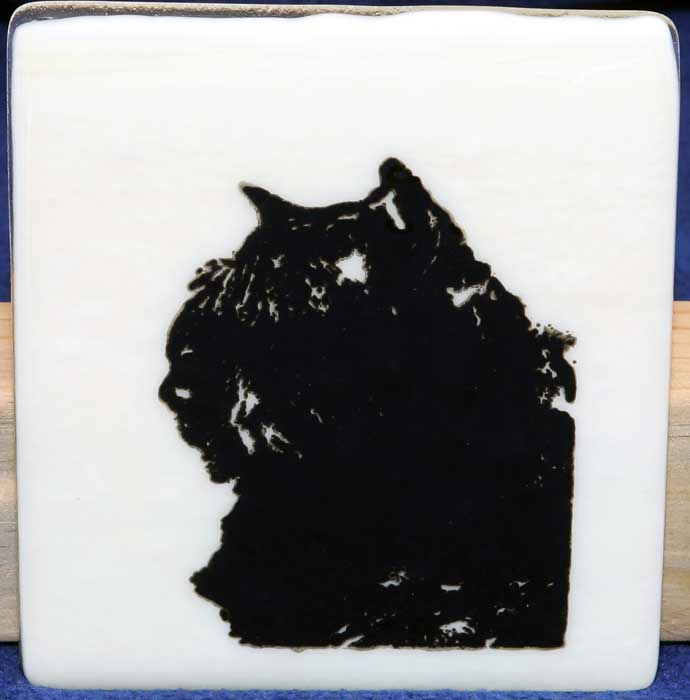 I didn't have the detail I was hoping for so next I went to a sold profile. I'll show a picture of that one down the thread a bit.
A few weeks ago I read a post about a place that prints decals for ceramics and glass which sounded pretty interesting.
What you do is create a image that is 10"x15" that has what ever you want on it that you want decals made of. You can put as much as you can fit on the page and he prints it off and sends you the sheet. You then cut out the images to fuse on your glass.
I picked a handful of images to test it with and didn't fill the page as full as I could. I figure if they come out good, I'll be getting more later. I cut out and fused 3 of the images from my page and pretty much followed the directions on their web site other than I speeded up their schedule a bit
Two of the decals I put on solid colored glass and one of them I put on Crystal Clear Tekta. I can see where the image will need to be a certain type to work with clear as it washed out a bit the image I used. But I can see the potential for something like a sun catcher with a very colorful image that should work very well.
Here are the images I did:
This one of my pictures of a yellow Lilly: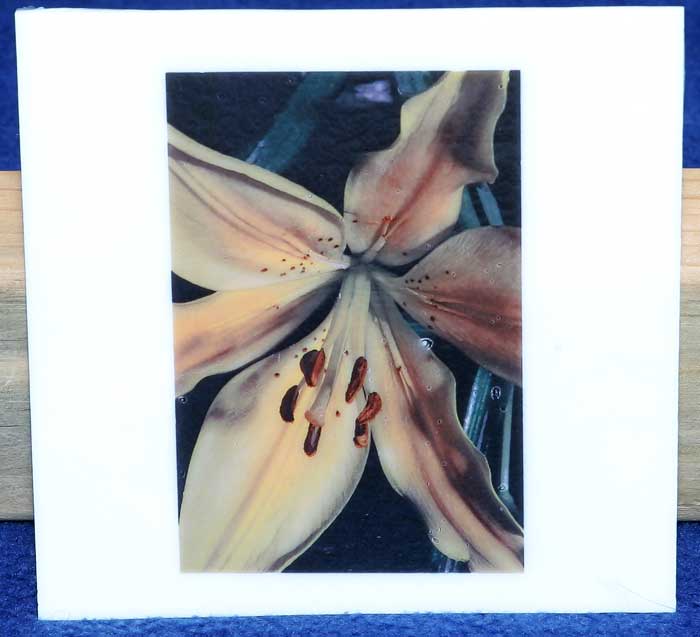 This is a picture of one of our Bouviers that I did on a clear piece of Tekta. I have a white piece of glass behind it so it's easier to see.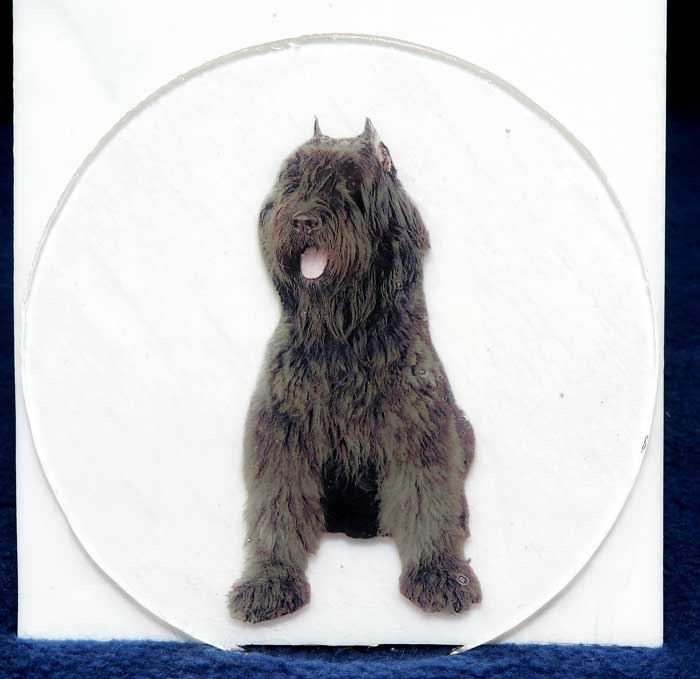 This image has two 5" circles. The red on the left is the decal and the yellow on the right is my screen print. The whitish areas around the head is a little bit of light reflecting and not the screen print itself.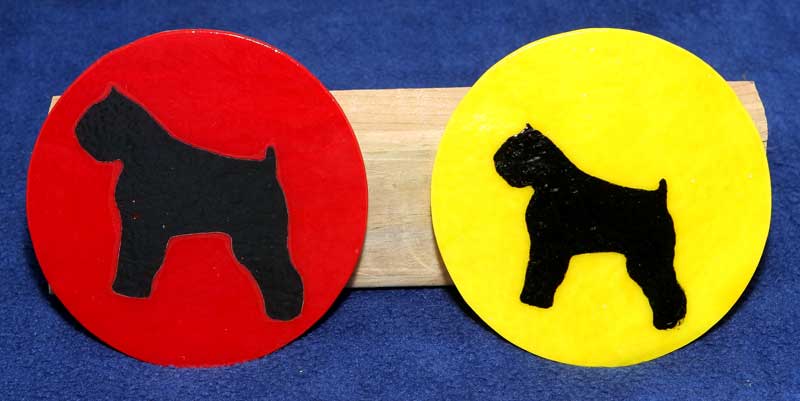 And here is my decal sheet with the images cut out and the others still on it. You can see I had lots of room to put more stuff if I wanted to squeeze them in some.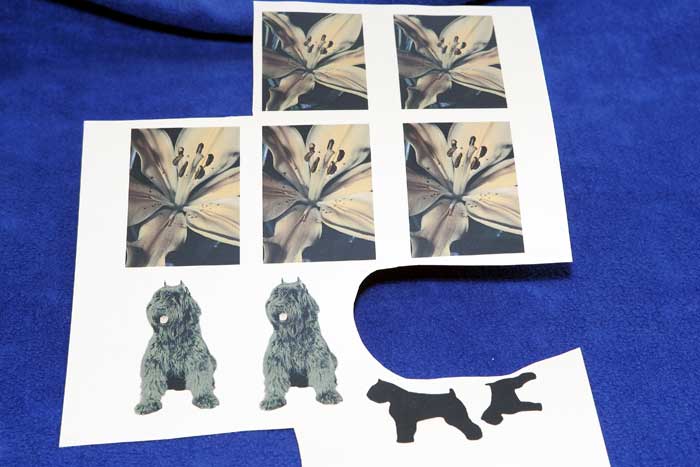 The decals fused on the glass really well. They are fused in permanently and you can't feel them.
So there you have it. I can see some good possibilities with the decals and I think that it will be easier than trying to screen print some of the things I want to put on glass. As soon as I get time to go through some of my images and find those that I think will work good I'm going to order some more.
Mike