Here are some of my favorite pictures taken when the puppies were 4-5 weeks old.
---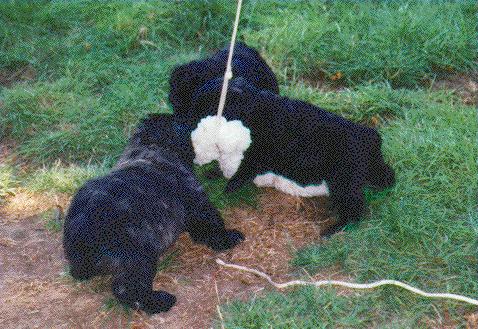 Pooooor fuzzy thing on a string... these puppies thought it was seriously asking to be killed! We had some excellent individual efforts and I was especially impressed with some of the teamwork that was demonstrated too!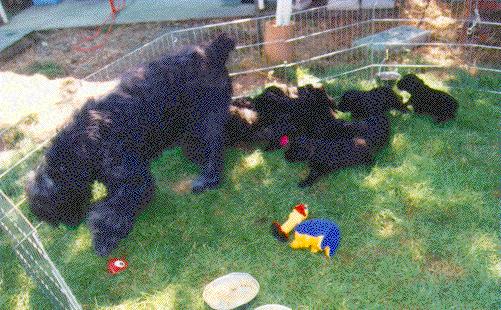 Chevelle was still willing to nurse the babies but she had a couple rules... First they had to exercise. ;D She would lead them around the xpen for a few laps and then sit down so they could get a few swigs. When she figured they had had enough, she'd just stand up, crow hop to step over puppies, and be on her way.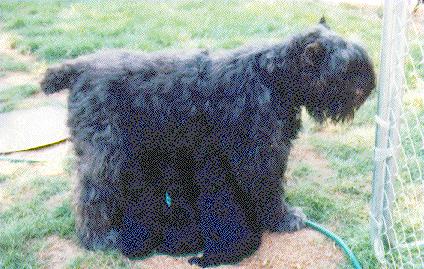 Pretty soon the puppies got too big to nurse sitting down, and so she accommodated them at the stand up bar. (It's even easier to make a getaway standing up!)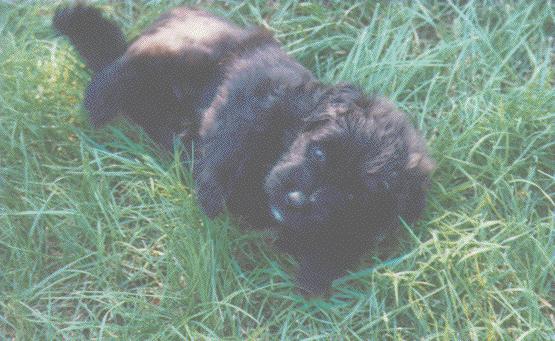 This is my Peach Puppy... She is a charmer and working really hard to convince me she wants to stay here forever. (I think she's winning too!) (This is Caprice)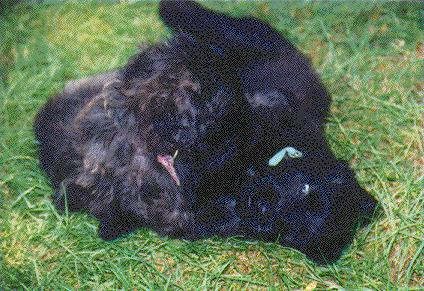 If you remember the "beached whale" puppy from the first week, you'll recognize her here. Rose (in the flowered collar) continues to be in the upper percentile of the litter both in growth, personality, structure, and attitude.
Mr. Blue, who started out as the smallest puppy in the litter, is now Mr. HUNK ... Larger than all the puppies, and with the bone structure to carry the weight too.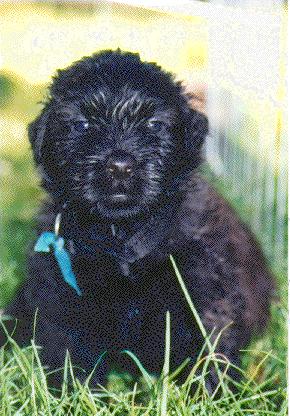 Here he is "up close and personal." I'm not sure if Blue found the greasy kid stuff or just discovered the joys of his water bucket on a hot day, but it's clear he had a ball with it.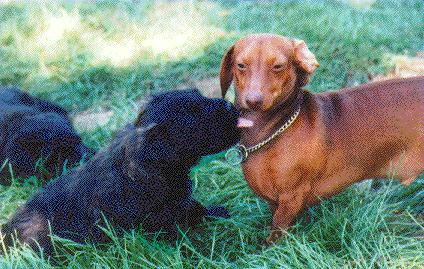 Every litter needs a big brother or sister to show them the ropes, and Scooter has proven himself to be a most excellent puppy trainer. He loves to lead the puppy pack on mad dashes across the yard... They scamper after him with wild abandon, thoroughly enjoying the chase. Clearly the puppies enjoy his attention too.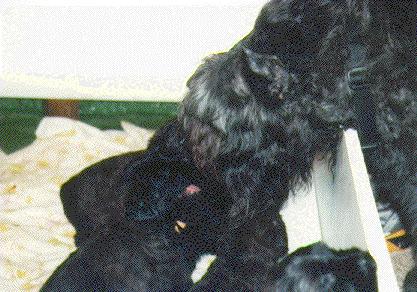 Chevelle continued to be a loving momma to her brood, but found that she could love them in ways that nurtured yet facilitated weaning too... One smart girl she is!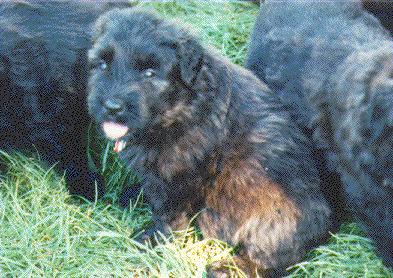 This is my sweet Doodle boy (as in Yankee .. check out the ribbon). Like his poppa Sam, he's a love and a half.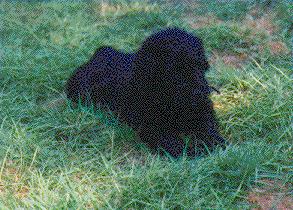 Is this a proper little Bouvier or what?? ;DD
Mr. Purple is a special puppy... last born and the one I sweated over a bit in the first moments, so it's especially nice to have him here and see him grow into such a beautiful puppy. He is near black... We'll see if it lasts. (Sorry girls... he's already spoken for).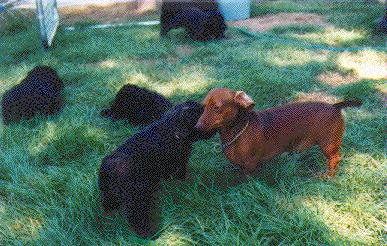 More puppy love.....

The puppies are in their sixth week and I can't imagine where the time has gone. I never stop laughing at their antics or just sitting in awe of them as they explore and learn about their world. Last evening I had to run an errand for a few minutes, and returned home not only the usually Bouv greetings from the adult crew, but an instant lap full of nine very happy puppy wiggles too. We never seem to run out of kisses and nibbles and ear snuffles in this crew.

Cheers,
Sue

---

Return to the Echo Bouviers Home Page
Return to the Echo Bouviers Puppy Page