A couple of months ago I got the urge to try baking different types of bread by hand and not by using the bread machine. I started reading about Artisan bread and no-kneed bread and leaving the dough in the refrigerator over night and as long as 2 weeks to allow it to build of flavor and using steam and a dutch oven and a number of other ways to make bread. So I started making several loaves of bread a week, trying different things. Most of it was ok but not what I'd call earth shattering or revolutionary and a quantum leap from the bread machine. But I kept working at it and I've been improving and learning as I tweak and modify the process. One thing i found, our Bouviers just love what I'm doing with flour, yeast, water and salt.
A couple of dogs that are just 'ho-hum" about cookies and treats just go bananas when I slice into one of the boules (round loaves) of bread. They start doing every trick they know and a few more to boot. I guess it's a good thing they all love it so I don't have to eat all that I make.
Here is a boule I did tonight. It's the first one that really looked good and also had good texture and flavor. The dough had been sitting in the refrigerator for the last 5 days with the yeast creating flavor and the flour working on creating gluten and other things. By leaving it in the fridge this is not like making sourdough, it doesn't ferment and get sour like sourdough does, but the yeast has time to create a deeper and more complex flavor than if it just set for a few hours proofing like it does in a bread machine or when it's done the old fashion way my mom use to do. It's actually easier than how my mom did because I don't have to kneed it at all. You just mix the four ingredients together in a plastic bucket or bowl, cover and put it in the fridge. When I want to make a loaf I pull out a handful, let it proof and double in size and then bake it.
About 20 minutes before the dough had done it's rise for about 2 hours and doubled in size, I preheated the oven to 475. In the oven I also put a cast iron 4.5 quart dutch oven. This headed up with the oven. Some of the more experienced home bakers have said that there isn't a lot of difference between a preheated dutch oven and one that isn't but I've not tried it yet to not preheat it as the books say to preheat. When the oven is ready, I take the dough out of it's proofing bowl and put it on parchment paper. I then drop the parchment paper with the dough on it into the dutch oven... being very careful and using two oven mitts so as not to get burned. I put the lid on the dutch oven and let it cook for about 20 to 25 minutes of it's total 35 to 40 minutes covered. at about 20 minutes or so, I take the lid off so it can brown on top. Depending on the size depends on if I go 35 minutes total or a bit longer. This loaf is bigger than most of them I've done so i went almost 45 minutes until the inside was 200 degrees. Here are some pictures of it...
The whole boule before cutting: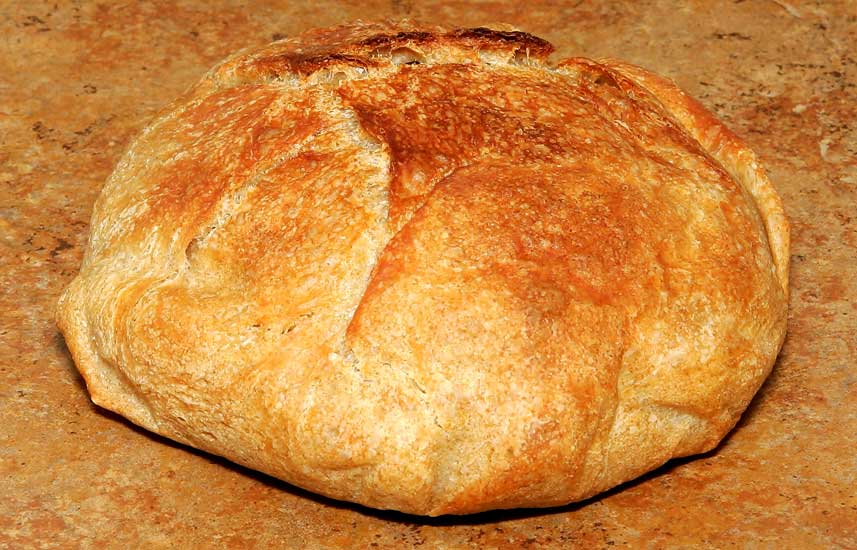 After cutting it:

And a closeup of one half:
Lots of fun and I know the dogs sure love it.
Mike