As I play with learning to create things in glass, I find that I come up with a lot of ideas that are far beyound my ability at this time (some will probably always be), but that still doesn't keep me from trying them.
Over the past 10 months or so that I've been playing with this glass stuff I've been trying to make different things with a Bouvier thyeme. As I was puzzeling over what to try, I had a an idea. We all know that our Bouviers can be very puzzeling at times. So why not a Bouvier puzzle? So I set about trying to figure out how to do one. After trying several methods that didn't work right, I decided to do a casting of the pieces. I already had the casting material (50 pounds of the stuff sitting in our garage) I just needed to figure out how to create the Bouvier object so I could create the mold.
While working on another project that required using clay to create bone shapes, it dawned on me that I could use the clay to do the same thing. So, using my Bouvier profile template that I've used before, I created another template that I cut into puzzle shapes. I then used these puzzle pieces to cut out patterns in clay that I had rolled out onto a table. The picture below is the first attemp I made at creating a Bouvier Puzzle. These are 4 pieces cut out of soft Sculpey clay and placed in a pan ready for the plaster material to be poured over them: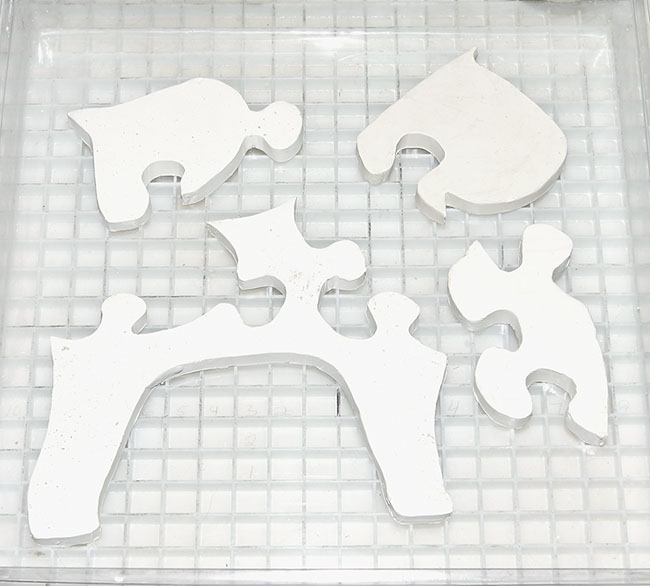 After I poured the mold material over them and let it set for the required time (about an hour or so) I pried out the clay shapes (to be re-used), which left me with a very heavy mold of the four puzzle pieces: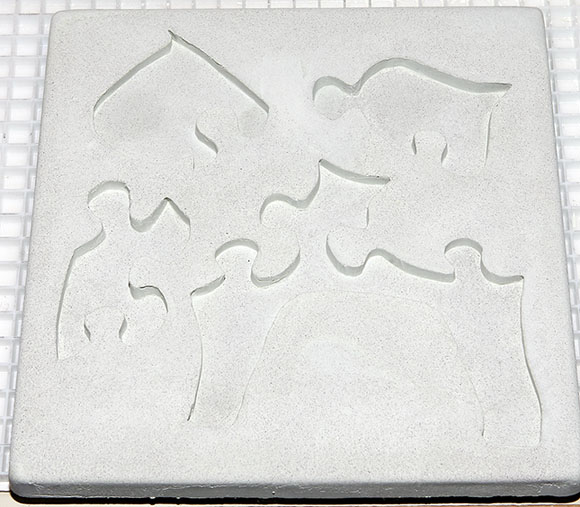 This I filled with glass and fired it. It fired ok, but didn't come out as well as I'd hoped. I didn't take into consideration that the nice fitting clay pieces would spread out a bit, which meant the interlocking pieces no longer fit inside each other. But the idea worked out. So I tried a second one, but this one I changed a bit. Instead of 4 pieces, I changed to 3 and after I cut the clay pieces out, I enlarged the interlocking areas a bit. I then put the pieces into the pan, mixed up some more mold material, poured and let it sit. After I had pried the clay out, I filled it with glass again. Here is what it looks like filled with the glass bits: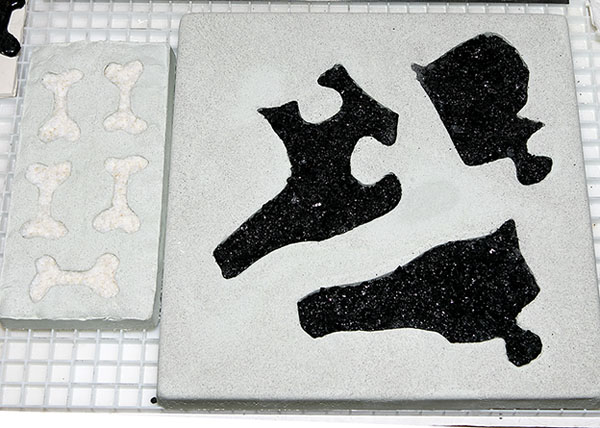 Notice the bones on the left. This was the project I was working on in clay that gave me the idea to use the clay for the puzzle pieces. I poured and fired those at the same time.
Here is what they looked like after they came out of my kiln: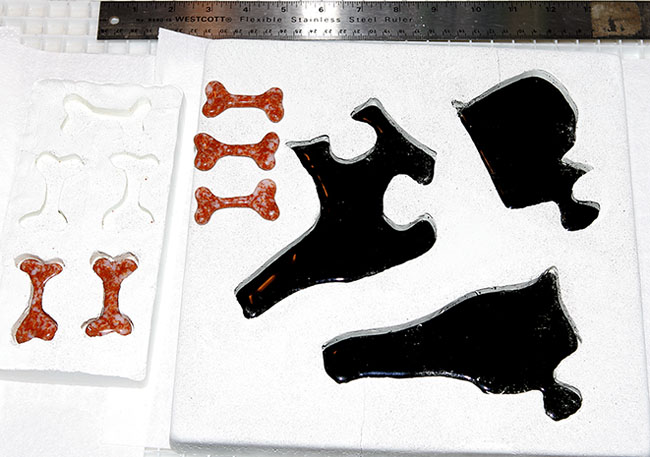 Notice the bones changed color. I used a mix of ground up glass that was part white and part Cinnabar, the color coming out after it's fired. It is a very pretty mix.
I had to do some grinding arond the edges of the Bouv Puzzle and put it back in the kiln to do what is called a fire polish, but here is how it came out: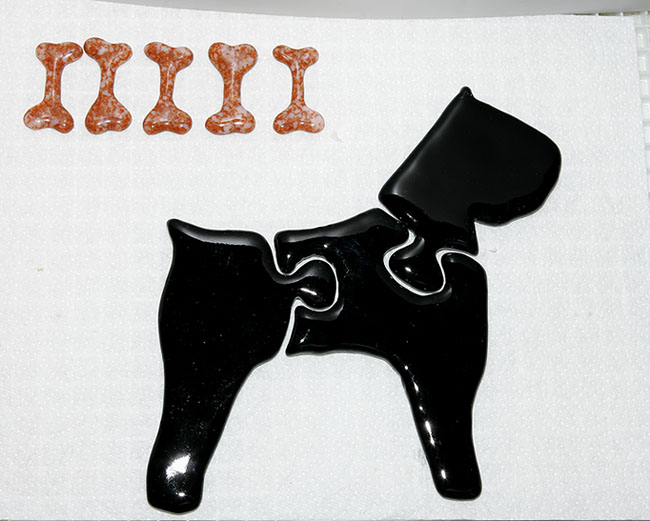 The interlocking pieces are a bit loser fitting than I'd planned on, but it actually makes the puzzle part more pronounced. I've need to work on some ideas of how to display or mount something like this, but I've got some ideas. I'm going to do a few more and see if I can improve on it a bit. I have a grinder coming that will let me do a better job of grinding around the edges to give it a smoother, more finished look. But being only my second attempt at this, I was very pleased at how it came out.
If I was better at making clay figures I could do a lot more molds, but about the best I can do is come up with different lumps of pounded clay when I work with it. If anyone happens to be able to actually create things in clay, we need to talk.
I hope you all enjoy this.
Mike